New infographics are now available online at Civility!
For years, I've provided organizations with a number of visual presentations of common parliamentary procedure concepts. Now—in a new Resources section of the Civility website—these infographics are available as downloadable, printable PDFs. Simply enter your name and email and these free resources are yours.
This week I want to feature the first in this series of newly designed infographic tools, titled "Laws, Bylaws, and Parliamentary Procedure."
In which order should I apply the rules? 
Many organizations struggle to know which rules to apply first. The "Laws, Bylaws, and Parliamentary Procedure" infographic presents a hierarchy of rules for organizational governance.
When you're trying to decide what rules to follow in a certain situation, start at the top of the diagram and move down.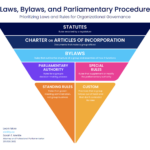 If one level of rules does not speak to the issue, move down to the next level, and so on.
The top row of the hierarchy begins with state statutes—those should be consulted first. Seven other sources of rules are defined and prioritized within the infographic, including charter, articles of incorporation, bylaws, parliamentary authority, special rules, standing rules, and custom.
Download this new infographic here and explore other Civility resources to inform your process and make your next business meeting more efficient.